Extra supplies for the streetchildren school of Centro de Encontro in Maputo, Mozambique

Centro de Encontro would like to realise a few improvements to a building it has already built and add a few necessary items.
First of all they need a laptop and a printer.
What they also need roof to cover part of the courtyard, table and chairs for children to make their homework at school, after school. Often there is no room for making homework at home so the school would like to provide the children that cannot do it at home with a space where they can sit and work.
Another wish is to be able to buy special curtains againt the sun. When the school was built they made 8 beautiful high windows. In practice they are lovely but if the sun stands at a low point it becomes very hot in the classroom. On the market they only sell the multicoloured fabric called Capulana which is used to make the local dresses. This fabric is not thick enough to serve as sunprotection. The material they would like to use is cheaper than Luxaflex and the curtains can be made by people working for the school.
Centro de Encontro is an independant NGO that organises education, sport and other activities for the streetchildren of Maputo. It was founded in 1994 by the Dutchman René Boezaard. He has passed on the day to day management to the local people, trained by him, in 2000, but remains very involved in all of their projects.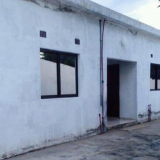 Please find a list below of the wishes for the improvement of their school:

€ 250 Laptop
€ 75 Printer
€ 100 Tables and chairs
€ 428 Roof for shading for children to make their homework after school
€ 570 Special sunproof curtains